SMGS in the 1950's
The following is a personal view of life at Southwell Minster Grammar School in the 1950's, using the content from the
Southwellian Magazine
It also draws from the experience and the classmates and friends that were broadly contemporary to him. He goes through the inevitable growing up period in his life and the effect that the school had on him and finally trying to understand how such a remarkable school came to pass
Getting to School
The top priority for an eleven year old was getting to school in a location that was far away and largely unknown. Kids came from far and wide; Worksop, Mansfield, Sutton, all the villages to Nottingham, Newark and boarders from as far as Scotland and ever abroad. However bus services were joined up and frequent and trains particularly from Nottingham were often. Nothing of todays school run by car in the 50' you had to be tough, resourceful such that students were effectively selected on academic ability and adaptability and energy gave the grammar school ideal raw material.
Who was in charge?
The Headmaster, Rushby Smith, was clearly in charge and exerted a strong influence on the school despite only teaching Religious Education, known as RE, to the older members of the school. It was no surprise as the school had a strong C of E flavour due to our close proximity to the Minster. The Heads influence also extended to morning assembly that often took place in the Minster once a week, as I remember. The assembly consisted of various information giving sessions, warnings about behaviour and its good and bad consequences mixed in with reports on sporting events. So cricket and athletics in the summer and of course rugby in the winter were the major sports. I say 'of course' because rugby was king and had a powerful bearing on status and pecking order in the life of the school. The Head was supported in this decade by an able and experience bunch of master who probably ran the school with little input from the Head, at least on a term-by-term basis. It appeared that the pace of change within the school was slow and unless it was broken why mend it? But for me it was a picture of a Head Master in control, speaking with on Oxford accent, as I would learn to recognise, from the steps of the school or his allotted place in the Minster that I will best remember him. Below the masters were the head boy, prefects and house captains. Many of these were boarders so control could be maintained 24/7 much along the lines of the military on which of course this model was originally based
His Masters
Dudley Doy
,
Don Fox
,
Chocker Yates
and John Ball were the most senior masters with a rather youthful
Steve Pulford
and finally
Chris 'Basher' Harris
who had joined to cover Chemistry and Biology in the brand new school lab. Dudley Doy (he sadly died soon after this point) was near to retirement and
Steve Pulford together with Chris Harris would take over his duties and spear head the new subject based around science and maths. Don Fox looked after the younger members of the school in the Junior Department or JD and also was the form master for the new intake of boys at eleven years old. He was strong on discipline and how things should be done. He referred to 'learning the ropes' (as in fact many masters did), which was short hand for the unwritten rules on how things worked. I particularly remember about 'being certain to clean the back and underneath of shoes for Speech Day' (prizes were given out then) but all this was to come later in school. Chocker Yates handled languages and Geography. Geography I like but French was a mystery and this put me at a great disadvantage as he never really enabled me to have get a mastery of the French language, which was all really rather a pity. Mr Ball was history and I only remembered this through a haze and the dust that was fabled to emanated from his moth eaten gown, and other things that I will not go into. Beefy Boland (hope the spelling is OK) was in charge of art and did a great job of it. He was somewhat physically disabled as I remember and it was said that this was a result of playing rugby, so nothing changes does it. Steve Pulford would not teach me maths and science until the fifth form when a new physics and chemistry block was built and a specialist teacher in
Chris Harris
had got settled-in, helped by the then set of boarding prefects according to to his contribution to the archive
Learning the Ropes
One practice (or custom) was for mid-morning beak monitors go out to the two local bakers for a supply of modestly priced buns and cakes. As I was up before seven in the morning to travel about 20 miles to school and arrive by nine I was famished by break and loved those sticky buns. Other practice was that you quickly mastered the art of writing legibly on a fast moving bus because the game was to get your prep (fancy name for homework) finished before you got home. I always did mine in my 'rough book' (it actually was a thick lined stapled pad with a proper cover for this purpose) and then copy it out at home. You could always rely on at lease someone having the right answer between Southwell and Mansfield to even the most difficult problem. Other pieces of 'learning the ropes' was no long hair, but I tended to ignore this, and no sneaking off early on Speech Day, which I also ignored until, I got caught-out and suffered the ire of the Head and a beating.
Sport, social structure and growing up!
For the first couple of years it was all a blur and I did not do well and felt rather overwhelmed. The kids, who were socially better prepared (miners, plumbers, landlords and clerks families were definitely not in this category) tended to grow more confident and do better. So I grew rather despondent. One day, being the kid none one wanted in their team, the situation got the better of me but things started to change as I got stuck into tacking the big kids. Soon I was playing hooker and was actually picked for an under 13 team although being small I could get away with being just a
bit over 13 years old. Suddenly thing started to fit into place, we played rugby on Saturday and went to all manner of different schools. Magnus in Newark, Nottingham high school, Kirklington school that served piles of sandwiches (jam and potted meat) and tea from the biggest teapot that I had ever seen and, of course, cakes. Not all were good, at Market Raisen the pitch was partially flooded and it had ice on the potholes. But I loved it all. The other big change was the energy and attitudes that the working class kids brought taking nothing for granted but being prepared to try most things. Many of these kids travelled long distances to school and if they could manage this then most other things were possible. The school benefited also from the money and full classes that the kids brought and created a balance in the school to check its historic very middle class heritage. I do also remember going to Twickenham to see the rugby and staying with a family in London for the weekend. Back on the bus I did not feel well and about a week later I was diagnosed with scarlet fever and spent 6 weeks in an isolation hospital. During which the word back at school was that I would not make it back at all. On return to school my voice was broken and I suddenly discovered girls. Things would never be the same again. At sixteen I managed to get a game with the 1st XV.
School clubs and the impact of boarders
Clubs and societies were a big thing at school and a quick visit to the
Southwellian magazine
in year 1955-56 shows 12 major clubs and events. The biggest event was the Pageant marking 100
0 anniversary of the founding of the school which was graced by a royal visit from Princess Margaret but also visits to Paris, Denmark, the High Peaks in Derbyshire as well as 2 plays and the usual scouts expeditions etc. We surmised that the Head did not really have enough to do (perhaps we were wrong) because he filled a good deal of his time staging and producing plays. This is witnessed by the rather large amount of time devoted to the yearly productions of plays catalogued in the Southwellian. Then of course the music and the Minster that was the heart of the school. So, lots to do and things to broaden the mind. This apparently was most important for the boarders who had to be kept busy less they get into 'bad habits,' whatever that was all about.
The pecking order and status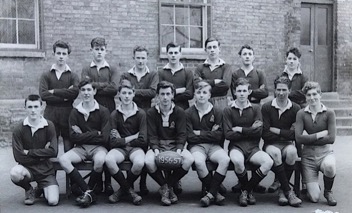 Earlier in the piece comments were made about the status of rugby in the school and it would be fair to say that the 1st XV rugby captain was the highest status of anyone in the school; second came the head boy with 1stXV colours (with a tassel on your cap) to follow. You could get all sorts of combinations. The interesting thing about status was that it was almost solely based on merit and achievement. I add 'almost' because this seemed true of the attitude of the boys but not totally so about the staff who appeared to operate an alternative order based on family connections, parent job or the informal network, 'the old school tie'.
A Grammar School with a liberal attitude
Not withstanding the previous remarks the school should be seen as liberal in its attitude and the way that it conducted itself, as increasingly the attitude of the younger masters and Steve Pulford seemed to hold more sway or was this me being just too optimistic?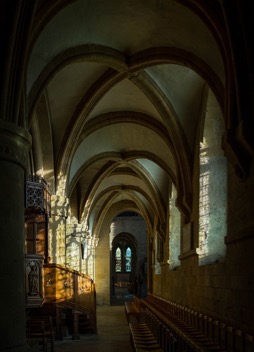 Steve Pulford was almost universally respected. He was a great teacher (taught me maths), a decent rugby player but a tireless worker for anything to do with the school. He just never stopped working and would eventually get the job that he always must have wanted, the Head Master, if only on a temporary basis. A truly great man and when he died the Minster was completely full of people who came to celebrate what he had done in his life. We shall never see the likes of him again. Looking back from a point in the 21st century, when the Grammar schools are back on the agenda, perhaps this is the model that really works. A small/medium size school with the entrance based on ability, strong on sport, dedicated teachers who aspiration was to make a career at one school and finally built on liberal principles. All these came together in the brilliant stetting of the minster, music and its culture. Now I am not musical or greatly religious but its so obvious, even to me, just how much the minster brought to the school and still does.
Good luck or brilliant planning?
Most would agree that the 1950's were a golden decade for the school but why did it come about? It can be seen that lots of strands came together
Quality education for all based on merit.
The restless energy from the new working class intake forcing change as well as income to fund expansion of grammar schools.
Funding for science and mathematics that would fire the inputs into the new Red Brick Universities and rebalance the schools reliance on history, english and the arts.
But also he school was ready to meet these challenges with experienced masters and succession plans to match the needs of the students.
On top of this was the Minster, its music; the schools liberal attitude to glue it all together ably supported by the command and control structures of the masters and prefects.
Rushby Smith never planned or mastered minded all this in some brilliant strategic flourish but he was smart enough to recognise what was happening, not to fight against it and eventually to capitalise on it.
The Final Blessing
The last word must also go to the Head. I can still sit in the very last seat that I did in the Minster and hear the parting massage from B J Rushby Smith extolling us to 'go forth into the world, be of good cheer and prosper' and by and large we did just that. David Padley Januarry 2017 At school 1952 to 1959